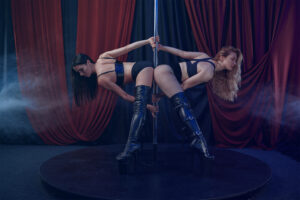 Love is always in the air around Las Vegas…or at least there's lust. Valentine's just took place and we needed a bit of naughty adventure. While we love all of the strip clubs that Sin City has to offer, we knew that we needed something a bit different.
After having hit some of the clubs just a few weeks ago, we already knew the kind of Vegas strippers we were interested in. The girls were at a football party we attended. They were sexy, outgoing, and knew how to keep everyone's attention on them.
Mrs. Cox and I were enamored by the whole thing – and that's when we decided to book the Las Vegas hotel strippers for our own good time on Valentine's Day.
We started out with the typical romantic night. I made reservations at Majordōmo Meat & Fish, one of the latest restaurants to open by Chef David Chang. It's located at the Venetian, and that's where I had our suite booked so that we could indulge a bit more.
After enjoying a delicious meal, we decided to wander up to our room. Along the way, I called to have a bottle of champagne delivered.
Mrs. Cox decided to remind me of why I fell in love with her – she showed off some new lingerie in a striptease that made my mouth water.
Then, we got the much-anticipated knock on the door – the two Vegas strippers we booked had arrived – and they couldn't wait to come in to show us some of the sinful action they had planned.
I poured the flutes of champagne for everyone. I held back, choosing to indulge in some 420 fun for myself.
These girls had obviously talked about how they were going to show us a good time. They immediately took control as they sipped on their bubbly, giggling as they flirted openly with Mrs. Cox and me.
Mrs. Cox, being the dominating force that she is, decided that she was going to let her silk robe fall to the ground, showing that she was all ready for the party. The girls, not wanting to be outdone, quickly kicked off their heels and unzipped each other's dresses. They, too, were ready to show off their lingerie.
I was quickly pushed into a chair so that I could be entertained by my wife and the two naughty dancers. Suddenly, there was music playing, hips were gyrating, and lace was flying.
Everything that was happening in the privacy of my hotel room reminded me why I love Vegas as much as I do. There's no other place in the world where this kind of excitement can happen from the comfort of my room.
Vegas strip clubs are great, but there are times when you don't want to share the sinful dancers with a room of strangers. Sometimes, you want the excitement to unfold in private – and I couldn't think of a better Valentine's Day gift to give my wife. Of course, she made sure that I got my gift, too.
The hotel strippers knew how to play with one another and invite us into the action. Booking two or more is always a guaranteed good time. It's something that you don't get to enjoy at the strip clubs because of all of the rules – even when you get the VIP experience.
In-room entertainment is one of my favorite ways to spend a romantic evening with my wife. And I believe that she learned a few new things from the strippers we recently met, too. It's definitely a way to spice things up, and my wife will be showing off her new skills in the very near future if I have my say about it…