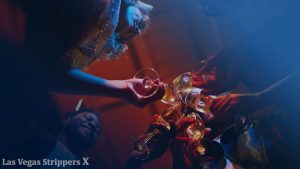 It's time to get your party on in Las Vegas. Showing up at the door of a nightclub with a black card in your hand isn't going to get the job done. You need a bit of planning. You also need to plan for bottle service.
Knowing the ins and outs of bottle service will ensure you don't overpay. Additionally, it pays to know the tricks to get the most out of your experience. Don't risk facing an empty bottle in front of you and losing your seat because you didn't budget enough or grease enough palms along the way. Trust me, I know a thing or two about the bottle service around here.
Know What's Included
Bottle service is the key to getting prime real estate at any of the clubs and lounges. This is the case whether you're headed to a nightclub or a strip club. You have to know what's included if you're going to spend $200 or more on a bottle of booze.
There are only a few things that are typically included in your bottle service:
Entry into the club
A table and chairs or a couch of some sort
Choice of liquor
Mixers for that liquor
Security and a waitress
Now, all of those things are great, but they come at a cost. Don't be that person who assumes that they paid $200 for a bottle of vodka so that they can invite a dozen friends and live life to the fullest. Oh, no…there are a lot of other expenses.
First of all, entry into the club is covered. The more people you want at your table, the more money you'll have to spend. That means more bottles of booze. Most clubs will identify how many bottles you need to buy, at a minimum, for the number of people you've got in your party.
The closer you want to be to the action, or the swankier you want your seating, the more you'll have to pay.
Oh, and the security and waitress are helping others. If you want them to pay more attention to you, plan on having cash in your hand. Don't expect everyone to jump to your beck and call simply by flashing your credit card. Cash talks, credit balances are unknown.
Schedule Ahead of Time
There are only so many tables and reserved areas inside of a club. It doesn't matter how much money you have. Once the tables are sold, they're sold. This means that you have to plan ahead of time.
Vegas is a hot town – and people love to visit year-round. When there's a big event, clubs are busier. Plan at least 30 days out. If you know there's an event going on when you're in town, plan out even further.
Oh, and if you plan on spending the night at the club, add that to your budget. Otherwise, the club will kick you out once your bottles are empty. Why? They'll make room for the people who did show up last minute – and they'll need your space to do it.
Last minute tables do happen, but nothing is guaranteed, so have a back up plan if you are winging it.
Do Your Research
Not all bottle service pricing is the same. Similarly, not all clubs offer the same benefits for the VIP bottle services.
Basic bottles of Grey Goose or Patron may cost between $400 and $600. And yes, that is per bottle. The fancier stuff is going to cost you more. Oh, and if it's on a busy holiday or there's a celebrity stripper or hot DJ at the club, expect to pay even more.
Some clubs will also offer added services – private restrooms, access to private entertainment at your table, and more. Of course, this means more money.
You have to ask yourself – how much do you want to spend? What is it worth for you to live large at a Vegas club? Dropping $10,000 or more to get a dozen of your friends crammed into a couch at a strip club is easy. Dropping another $1,000 in cash tips is even easier to ensure you get your drinks served quickly while getting some hot entertainment dropped into your lap periodically.
Make the Most of Your Money
The reality is that a $50 bottle of alcohol is going to cost you $500 or more because of the entire experience that surrounds it. What happens when you're looking to entertain a dozen people or more and keep a cocktail in your hand for a few hours? You'll spend thousands of dollars.
All that being said, there are some impressive nightclubs and strip clubs. Some almost succeed in giving you the VIP treatment that you're paying for.
Alternatively, in-room strippers can be the best way to make the most of your money. You get the comfort of your hotel room or suite. You get to set up the bar you want with a quick trip to the liquor store. Plus, you get the beautiful, exotic dancers front and center. There's no need to share them with the rest of the club. They'll perform inches away from you, and that's when it's suddenly worth the money.
It all comes down to what your budget is and what kind of experience you want to have. When you want to say that you've hit up one of the hottest clubs in Vegas, let us help. We'll tell you which clubs have the best bottle services. When you don't care about the club but you want an unforgettable experience, let us schedule hot adult entertainment to take place in your room. Either way, we've got the tips to ensure you don't blow it while you're here.