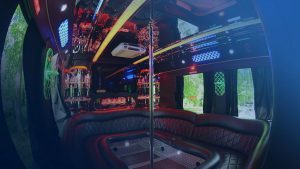 Whenever you travel somewhere, you want to travel in style. You want to relax, have a good time, and enjoy some liquid libations along the way. The last thing you want to worry about is a DUI or where you're going to have to park.
Las Vegas party bus options are available so that you can live it up.
Embrace how you're going to get to your next scheduled event on your social calendar.
Enjoy What a Party Bus Has to Offer
If you're going with a group of friends to a bar, a club, or even a Raider's game, you don't want to worry about certain things.
Who is going to be the designated driver?
Where are you going to park?
How are you going to fit everyone inside?
Party buses can accommodate up to 24 people, ensuring that you can travel with a large group. If you have fewer people with you, there's more room to dance and have some fun. Oh, and if you want a few Vegas strippers on the bus to provide you with some added adult entertainment, that can always be arranged.
You can drink alcohol on the party bus. Just sit back with a drink in your hand. Socialize with your friends and wait to be transported to your destination.
There's no need to fuss with directions, parking, or parking fees. Instead, a chauffeur will do the navigating and deliver you right to the door. It's the ultimate VIP transportation, and it's cheaper than you might think.
Consider the Destination Possibilities
The reality is that anything on your social calendar can benefit from transportation via a party bus Las Vegas visitors can afford.
The Allegiant Stadium is home to not only the NFL Raiders but also the UNLV Rebels Football. Throughout the year, there are countless concerts and festivals there, too. If you've ever had to park there, you know that it's a nightmare. Those who designed the stadium conveniently forgot that parking had to be considered.
You don't want to be late for an event because you spent over an hour trying to figure out where to park. You also don't want to be stressed out over the parking.
The sooner you accept that you just don't park at Allegiant Stadium, the sooner you can book a party bus. This will allow you to start the fun the moment that the bus picks you and your friends up – whether it's from the airport, a hotel, or anywhere else.
The party bus doesn't just offer transportation to and from Allegiant Stadium, however. Party buses will take you anywhere you want to go. Turn it into a full bachelor party experience by going on a bar crawl. Visit some of the hottest nightclubs while partying on the way to each one. Even attend a convention at the Sands Expo Center in style by living it up on the way there.
Not in Vegas? Get Picked Up Anyway
Take the party bus to Vegas. That's right. If you didn't know that a party bus could actually pick you up in one of the nearby metropolitan areas, we're here to tell you that you've been missing out. You can get a luxury ride into Vegas with a party bus from Los Angeles, San Diego, Phoenix, and so many other cities.
It's time that you explore the reality of a Vegas party bus. You can enjoy premium entertainment on-the-go from any nearby town to any venue around Vegas. Once you experience our adult-oriented mode of travel, you won't want to travel any other way.