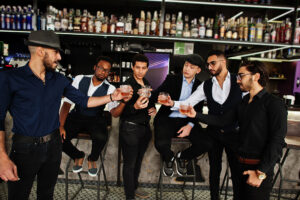 Hey all, this is Candy Cox with some insightful information pertaining to unique bachelor party ideas you don't want to miss. If you have a guy friend, husband, fiancé, or family member who is in charge of throwing a bachelor party for his friend or family member, he is likely to be a bit unhinged at the thought of getting everything in order for the big day. Most guys don't really work on all the details necessary to have a successful event (I know, I know...there are some who don't fit that stigma, but the ones I know would rather have their female counterparts handle the nitty-gritty details for them!). Read on to find out exactly what to help your guy focus on so the party he is in charge of throwing is one sure to please all guests attending.
Make Sure The Bachelor Is The Focus
The bachelor himself is the one that the entire event should be focused on. Not bachelor party favors. No one needs new bottle openers. Find out information about him. If he has hobbies, likes, or fantasies that your guy knows about, they need to be incorporated into the party. For example, if the groom-to-be is a diehard classic car enthusiast, consider renting his favorite make and model for the day, so he can show up to his bachelor party in style. If he loves a particular band, make sure the DJ hired for the event knows to play several songs throughout the party.
Pick Out The Right Venue
You're in Vegas, which is a big plus in itself because there's so much to do in the city! Picking out a venue means visiting a few in person. This is a great way to sneak in a few meals and drinks for your assistance in this party-planning adventure! Book a few appointments with swanky venue halls, consider casino stays, and check out strip clubs in the area. The setting is a big factor in the atmosphere of the bachelor party, so be sure it provides plenty of seating, room to walk around and mingle, a wide selection of food and drink choices, and the A-okay for the hiring of adult entertainment for the attendees. A Vegas bachelor party is usually wild! It is called Sin City after all.
Consider The Surprise Factor
There's nothing more fun than the adrenaline rush of a surprise. Don't allow your guy to be the one to let the cat out of the bag about the bachelor party! He needs to understand that mum is the word if he wants the groom-to-be to be completely caught off-guard. This requires your help in the behind-the-scenes planning! Handle the tasks that may give away the secret, so your guy is not put on display in front of the bachelor. If you need help figuring out how to surprise the groom-to-be, give a stripper service a call. They have plenty of ideas on how to get someone to a particular place at a particular time, and they even wear disguises to help you pull off the surprise event without the guest of honor being clued in at all! These girls have plenty of experience. If you are hiring strippers, utilize this! They can be the best gift idea and way more entertaining than a just trip to a golf course.
Use A Theme If Possible
A themed event makes it easy to plan a party. Don't just head to downtown Las Vegas and hope for the best. Ask your guy to pick out a theme and help him pick out decorations that match it. Start out by purchasing bachelor party invitations that hint around at the theme being used. This way those attending can match their attire or gift selections if they choose. Be sure to alert any entertainment hired about the theme as well as they will likely join in with role-playing in the form of costumes to help boost the theme throughout the event.
Provide Bachelor Party Gifts
Everyone enjoys a gift. It is customary for the person throwing a bachelor party to provide each of the groomsmen with a special token of appreciation for their part in being there for the groom-to-be on his wedding day. Personalized mugs, flasks, or lighters are always appreciated. They'll become favorite treasures and if given to the recipients before the party gets into full swing, they can be used throughout the event. Encourage your guy to check online for bulk ordering or head to a local mall to find out if there is a gift shop with personalization services available.
Get Those Strippers On Board
Strippers are A MUST for bachelor parties! They are expected, and they make the entire event more fun than you can imagine. Now, while you aren't there to supervise your guy while these girls are in action, there's no need to worry. Strippers are hired as a means of adult entertainment. The guys at the party deserve this time to let loose and strippers help to get that feeling going. Make sure to hire more than one stripper if your guy is throwing a large event. It is preferable to have one lady for at least every three to four men, so there's plenty for all to see!
Showcase A Bachelor Party Movie
What better way to get the party going than with a movie selected especially for the groom-to-be? No one is going to sit down and watch the entire thing...but having it playing in the background while the party is starting is a great way for those who are on the shyer side to relax and get ready for what is to come. Select a movie with sexual innuendos and a comedy approach.
Forego The Wife At Bachelor Party
Most wives-to-be can't help but be curious about what their soon-to-be husbands do at their bachelor parties. This is a no-no! Instead of inviting that woman to the party, ask her to record a video of herself giving her well wishes to her future husband. This can then be played on a big screen for all the guys to watch, and it will be enough of a "reminder" to the bachelor that he has a woman waiting for him to marry him in the near future.